Hitachi-GE Nuclear Energy Starts Outsourcing Business for the Source of Photons and Integrated Does Analysis
Hitachi-GE Nuclear Energy Starts Outsourcing Business for the Source of Photons and Integrated Does Analysis
TOKYO, JAPAN - December 21, 2011 - Hitachi-GE Nuclear Energy, Ltd. (President and Representative Director Hiroto Uozumi, referred to hereafter as Hitachi-GE) has developed a new simulation software system to evaluate radiation dose rates in a wide area (hereinafter "System") and has commenced an outsourcing service for the System.
The Japanese government is scheduled to conduct decontamination works for the radioactively contaminated area. Hitachi-GE developed a system based on technology that evaluates radiation dose rates in a wide area by utilizing various technologies that it has cultivated over many years through the designing of in-plant facilities at nuclear power plants, such as radiation dose evaluation technology, radiation shielding evaluation technology and radiation detection technology. This System can generate radiation dose rate maps and it can also map out the radioactively contaminated areas within the target area and the strength of the contamination. Furthermore, the new System can formulate decontamination plans and evaluate their expected effects by generating a dose rate map after inputting decontamination factors in the radioactively contaminated area. In addition, origin of radioactive materials, ground with high radiation does rates, concrete and iron shielding objects can be input as rectangular solids and visualize procedure details of decontamination works. Then they make it possible to plan out measures to reduce the radiation exposure of workers and residents.
The System can be used in decontamination work in order to ensure that the decontamination of ground, for example, advances in an efficient manner. Hitachi-GE can also handle both decontamination planning and radiation detection services using this system.
Example of Basic Specifications:
Calculation Code: MCNP5
Radiation Source Conditions

[Assumed RI Gamma Ray Source]

Cs-134, -137

[Radiation Source Range]

A 10m square, 100m square surface and/or a point radiation source

[Input Conditions]

Space dose rate and/or nuclide type of contamination density

Evaluation Points: Heights of 1m, 2m, and 5m
Setting of Shielding Objects: Possible (Rectangular solid approximation / ground, concrete, iron)
Skyshine Evaluation: Possible (When setting shielding objects)
Map Data: Uses nationwide maps. (Topographical maps from the Geospatial Information Authority of Japan, etc.)
Range of Application: Up to 2km in all four directions.
3D Support of Radiation Source Positions: Possible (Elevation can be automatically input from the map data.)
Dosimeter Data with GPS (CVS File): Can be automatically input.
Fields of Application and Usage Examples
The System can be used broadly as a planning, evaluation, and examination tool for the following uses.
1)Development of Decontamination Plans, 2) Dosage Rate Contribution Evaluations, 3) Expectation of Decontamination Effects, 4) Analytical Examination of the Monitoring Density, 5) Plot Planning Formulation, etc.
Evaluation Examples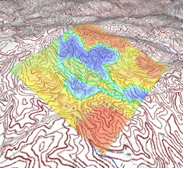 Example of Radiation Dose Rate Evaluation Results Using the Evaluation System of Radiation Dose Rate in a Wide Area
(Evaluated based on the measured dose rate and displayed as a map.)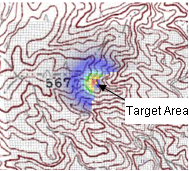 Example of Radiation Dose Contribution Evaluation
(The radiation dose contribution of the target area is displayed as a map.)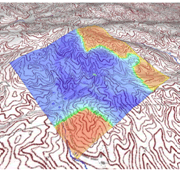 Example of Projection of Decontamination Effects
(Displays the projected effect after decontamination.)
Notes:

The above examples are evaluations that used a hypothetical radiation source and hypothetical decontamination factors. And this map is based on the Digital Map 25000 (Map Image) and Digital Map 50m Grid (Elevation) and Digital Map 5m Grid (Elevation) published by Geographical Survey Institute Japan with its approval under the article 30 of The Survey Act. (Approval Number : SOU-SHI No.635 2005)